About Us
"From tracking elephants on foot in the deep mopane forests of northern Botswana to the crystal clear lagoons of the Okavango Delta and to the eerie calmness and quiet of the Makgadikgadi salt pans, there are very few places where I have not guided. My inspiration came from listening to my grandfather's tales about Africa."
We aim to provide an authentic safari experience of a lifetime. Lewis Safaris was established in 1996 by Stephan Lewis, a fifth-generation African with more than 25 years' guiding and mobile safari experience in Botswana.
As a family-run business, Lewis Safaris is perfectly positioned to provide personal service combined with attention to detail. Stephan and his friendly and knowledgeable team, can provide itineraries that ensure a safari experience of a lifetime.
Tinus – Operations Manager
Tinus joined Okavango Expeditions in July 2016 with a history in management, conservation and guiding within sanctuary resorts, game reserves and safari operators. Tinus is highly motivated and with proven experience is very committed to providing unparalleled results, guest services and maintaining the high standard Okavango Expeditions offers.
Silvester – Reservations
Silvester started with the tourism industry in 2010 after finishing his Diploma in Travel Tourism and Hotel Recreation Management. He interests started in guiding and got his Assistant Safari Guide Licence in 2011, and worked with Okavango Expeditions as a camp hand as well as guide trainee for the bush experience. Silvester received an opportunity to go on a Cultural Representative Program to USA where he worked as a Savanna Guide under the Animal Science and Environment department within Disney for one and half years before coming back home to continue his journey with Okavango Expeditions.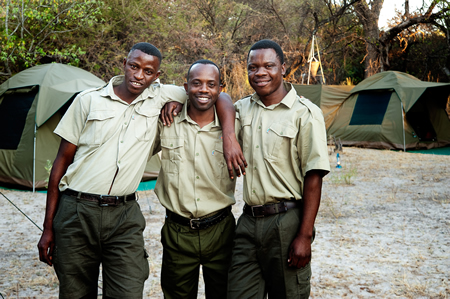 The Safari Teams
We have a team of 12 employees ranging from guides to camp cooks to camp assistants who assist on the Okavango Expeditions mobile safaris ensuring guest satisfaction. Most of our employees have been part of our teams for the past 7 years and are dedicated, committed and wonderful individuals. 
Maun Based Team
In every business there are the people who work behind the scenes. These are the unsung heroes of our business who work tirelessly ensuring that all vehicles and equipment is in pristine condition and that everything you need is packed and checked prior to your departure.